THANK YOU ALL FOR AN AMAZING JUBILEE!
2022 IS IN THE BOOKS! SEE YOU IN 2023!
"I've been coming for 40 years and this year was the best since Mojave Narrows!" - Dan, a long-time attendee.
"If you don't like people, the audience that comes to Huck Finn just might change your mind." - David S.
"I love all the shops!" Ethena (age 6).
"I loved the campsites. We stayed basically on the show floor. It was like a concert happening in our front yard with all the comforts and conveniences of home." - Rusty B / Michelle B
"Every one of the acts was great, and I was skeptical about the bands with drums, but I absolutely loved all of them. I don't know how you make these decisions, but every one of those bands could've been a headliner" -David S / Vicky
"LOVED the workshops. So cool that you do that!" - Jake B.
"I used to bring my kids, now I get to bring my grandkids, we love this festival." - Mark H. 
"The people are so amazing. I make new friends every year." -John K
Great park. Great location. I've been to about 8 of these, and this was among the best!" Kyle
I loved the crowd, the music, and the energy. I loved every bit of it! -Jess
"The best weekend I've had all year" - Greg V
"I loved how organized it was. Easy in, great layout. If there was a small glitch, of which there were very few, it was solved immediately. The park staff and show crew were all so amazing at what they do!" - Victoria S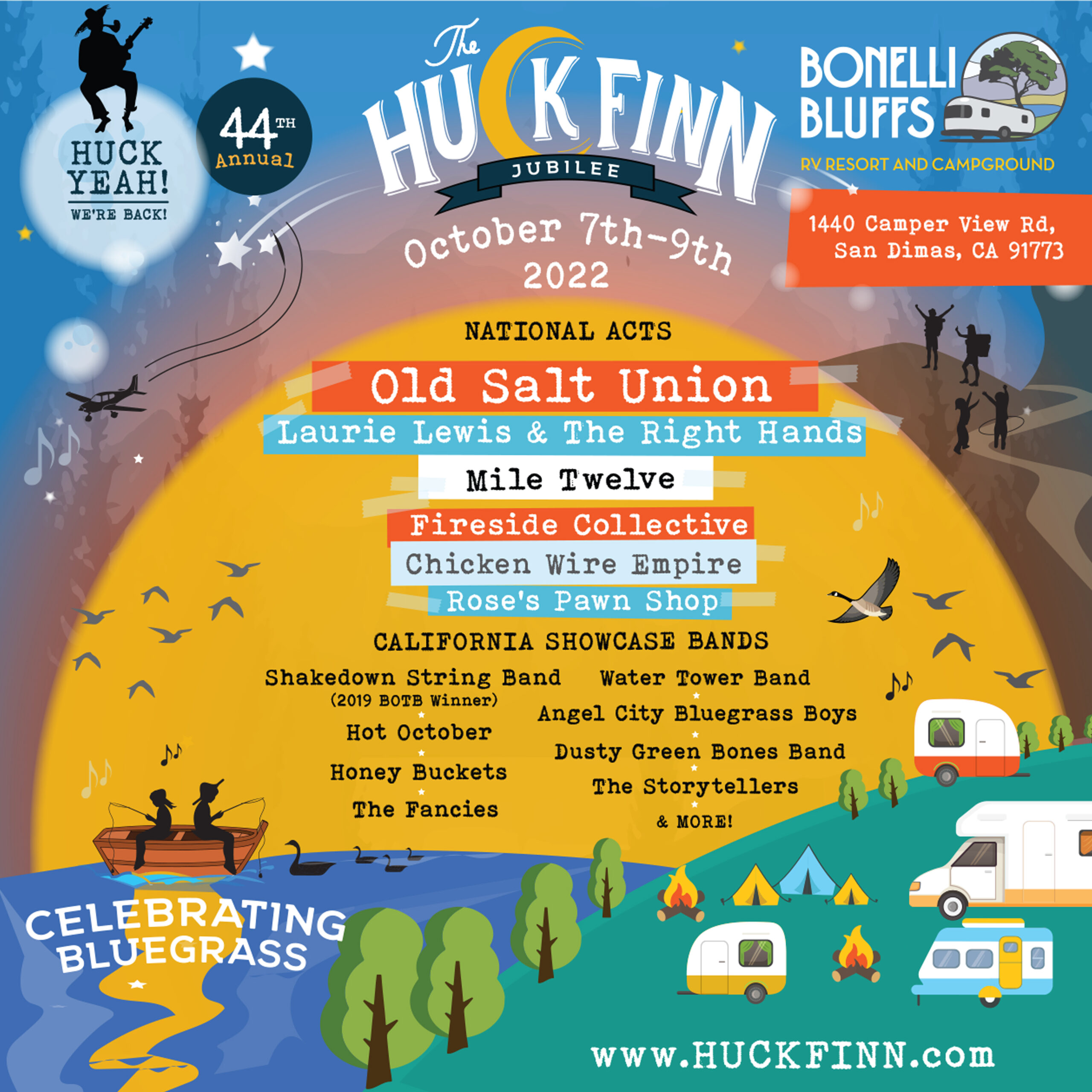 SIGN UP FOR OUR EMAIL LIST TODAY!
Hello Huckers!!
Saying that we've missed you would be the understatement of the decade. The shows we produced in 2018 and 2019 were great because you all provided such amazing energy and spirit.
A lot has happened since then and while we were able to host a virtual event in 2020, we've been dark since.
UNTIL NOW!
The 44th Huck Finn Jubilee returns to SoCal this fall and we can't wait to see you in our new home at Bonelli Bluffs RV Resort and Campgrounds!
Located in San Dimas, Southern California, an area rich in history and blessed with warm, gorgeous weather year-round!
The RV resort and campground feature large paved full hookup sites, beautiful campsites, and amenities to help you enjoy the great outdoors. Many sites offer magnificent views of the beautiful Puddingstone Lake. The well-manicured spacious sites allow you to open all four RV slideouts while still on your level hard pad with extra room to spare.
The last two years were tough on this family-owned and operated festival, but we're pouring our hearts and souls into making the 2022 experience better than ever! We appreciate your support, kindness, and excitement for the Huck Finn Jubilee.
Sign up below and stay tuned for more details and information!