IT'S A WRAP!!
Check out photos from the 45th Annual Huck Finn Jubilee below courtesy of Skip the Record.
Join our email list for details regarding the 2024 Festival event!
The 45th Annual Huck Finn Jubilee!
As the sun sets on another incredible year of music, laughter, and friendship, we'd like to extend our deepest gratitude to each and every one of you who made the Huck Finn Jubilee a resounding success. Your energy, passion, and love for bluegrass music filled the air and created an unforgettable atmosphere.
From the captivating performances under the starry skies (and sometimes hot sun), to the impromptu jam sessions around campfires, you all brought the true spirit of bluegrass to life. It's the connection between the artists, the audience, and the great outdoors that makes this event so special.
Seeing old friends reunite and new friendships bloom warms our hearts. Your unwavering support and enthusiasm inspire us to keep growing and improving year after year.
As we bid farewell to this year's festival, we already have our sights set on the next one. We can't wait to see you all again, share more amazing music, and create even more cherished memories. Until then, keep the bluegrass spirit alive, and we'll make next year's gathering even more remarkable.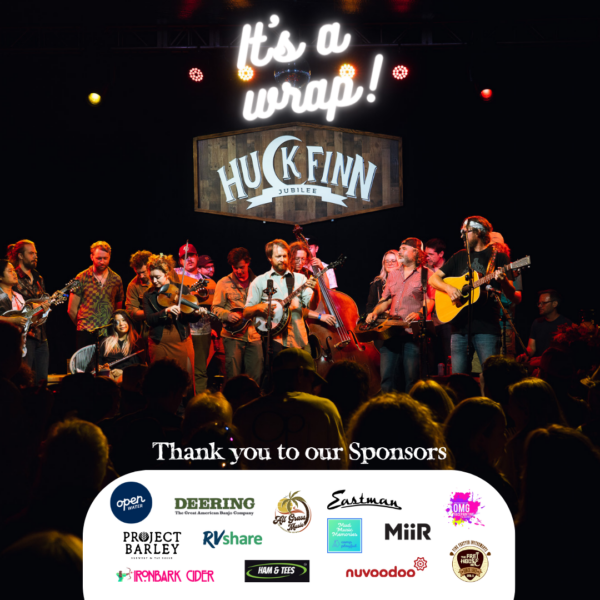 Thank you to our Sponsors!
Hello Huckers!!
Attention all music lovers! Are you ready for an unforgettable weekend of foot-stomping bluegrass tunes and family-friendly fun? Then join us at the Huck Finn Jubilee, California's premier bluegrass festival, as we celebrate our 45th year!

Since its inception in 1978, the Huck Finn Jubilee has been dedicated to promoting and preserving bluegrass music, and we're proud to have hosted some of the most renowned bluegrass artists in the world. From Bill Monroe and Earl Scruggs to Alison Krauss and Ricky Skaggs, our stage has been graced by some of the most legendary performers in the genre.

But that's not all we have to offer! Our festival features nationally touring acts, as well as up-and-coming artists, ensuring a diverse and dynamic lineup that will keep you tapping your toes all weekend long. And with plenty of kid's activities, food trucks, and more, there's something for everyone to enjoy.

This year's festival will take place on October 6-8th, 2023, at the beautiful Bonelli Bluffs RV Resort in San Dimas, California. With stunning views of the surrounding hills and a serene lake, it's the perfect setting for a weekend of music and relaxation.

To stay up-to-date on all the latest Huck Finn Jubilee news, including artist announcements and ticket information, be sure to sign up for our newsletter
The 45th Huck Finn Jubilee returns to SoCal this fall back in our new venue, Bonelli Bluffs RV Resort and Campgrounds!
Located in San Dimas, Southern California, an area rich in history and blessed with warm, gorgeous weather year-round!
The RV resort and campground feature large paved full hookup sites, beautiful campsites, and amenities to help you enjoy the great outdoors. Many sites offer magnificent views of the beautiful Puddingstone Lake. The well-manicured spacious sites allow you to open all four RV slideouts while still on your level hard pad with extra room to spare.
Sign up below and stay tuned for more details and information!